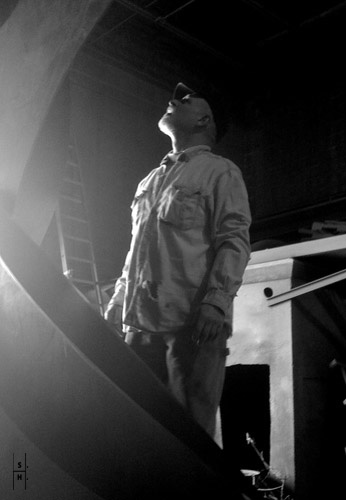 Because of our parents…….
MY BELIEF BRIEFS
BELIEF
THOSE WHO TALK ABOUT IT DON'T DO ENOUGH OF IT
MISTAKES
CONSTRUCTIVE TRANSFORMATION, THERE ARE NO MISTAKES
RE-INVENTING
THE FIRST TIME ISN'T ENOUGH
DUALITIES
WITHOUT THEM THERE IS NOTHING
ANGLES
CHANGES PERSPECTIVE ON EVERYTHING
VERSATILITY
BROADENS THE MIND
STRUCTURE
PUSH BOUNDARIES YET MASTER THEM
ISOLATION & SOLITUDE
PROVIDES INSIGHT & VISION
DOUBT
SEE THE TRUTH
SIMPLICITY
A LINE HAS MANY SIDES AND NUANCES
My introduction to art started when my parents sent me to the Art Institute of Chicago at the age of 6 for painting classes. From that point on, I was involved in the arts in some form or another.  It really started to come to fruition during high school.  I took all the typical art classes the school had to offer.
A program called 'Focus on the Arts' introduced me to a variety of mediums in the arts. i.e.; theatre, sculpture and even glassblowing. By a twist of fate I pursued glass. I graduated from California College of Arts and Crafts with a BFA in 1978 in glass and sculpture.
I then worked in a production glassblowing shop before opening my own glass studio in 1979 thru 1985 in Oakland, California.  During this period, my work gained recognition.  I invented a technique where I used a plate form as a canvas and then developed an elliptical shape using minimalistic color. I wanted to take glass away from the craft category and more into the realm of art.
Pursuant to that, favorable results took shape and my glassworks were acquired by select galleries, corporate collections, and museums.
Then in 1985 I took a hiatus from the art world and worked in different fields to experience life outside art.  I moved to Chicago and worked as a futures trader for a couple of years, then became an owner and operator of an Avante Gaard night club for five years.
After this stint, I moved to Manhattan where I developed a signature technique of weaving steel and copper wire into figurative forms. It was a very involved and arduous process that had not been done before. After a decade of working in wire, I produced a total of 48 wire sculpture.
In 2003 I departed from the arts again and left Manhattan. I travelled the country for an extensive period of time and came back to Chicago due to health issues of my parents in 2007. Through the the persistence of a Chicago art dealer, I started making paper maquettes.  I then began translating the maquettes into steel sculptures ranging in scale from 8 inches to 14 feet.  Thus the third chapter of my career in the arts evolved with a new body of work I call 'CONTINUUM'.
The sculptures are formalistic, evocative, and humanist by nature.  The influences of my earlier work are very apparent and the figures continues to transcend in the current body of work.
The colors I choose are straight forward and monochromatic.   The lines and planes are flat and rigid yet they soften as light invokes shadows.  The thought processes of how the lines and planes interact become evident not only from afar but even up close depending on its environment.
Currently some of the new work is exhibited throughout the country.
And now a quote she wrote, my quote unquote quote……. "I am enjoying this current chapter but there will be more chapters added to this book that I will finish …….unfinished".
v